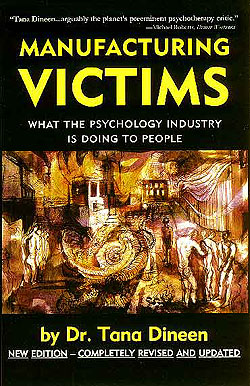 Tana Dineen is the author of:
Manufacturing Victims:
What the Psychology Industry
is Doing to People
First published in 1996, a second revised edition followed in 1998, a Commonwealth edition was released in the U.K. and Commonwealthin 1999 and a completely revised and updated 3rd edition of Manufacturing Victims was released mid-2001.
Dr. Dineen is currently working on another book. More information will be forthcoming.
Information about The Book:
Theme of Manufacturing Victims
Content Excerpts and Table of Contents
Media Reactions What has been said and written in the press and through the media
July 2001 Review in Books In Canada
Publication Information
Ordering
Brochure: Print a brochure for yourself or a friend