Osama Bin Laden's death or capture will be the icing on the gruesome cake of the war in Afghanistan. If the Northern Alliance or the U.S. military don't get him, it may be a follower or a bounty hunter attracted by the $25 million U.S. price on his head.

The bounty, which reflects what many view as the "typically American" belief that all men have their price and anything can be bought, is one of the first projects spearheaded by the United States' new propaganda boss, Charlotte Beers.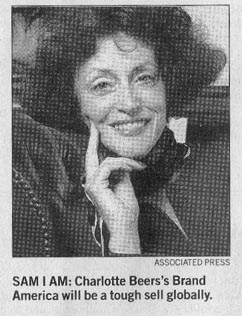 Her appointment last month as the new undersecretary of state for public diplomacy was a sign of what's to come in the U.S.'s new war. In September, it seemed the U.S. had no choice but to fight back. The smouldering ruins of the Twin Towers served as a powerful call to arms that justified the declaration of war. It is, we've been told repeatedly, a "war on terrorism" in which "Afghanistan is just the beginning." We know other nations will become targets by virtue of being accused of harbouring, feeding or somehow supporting terrorists.

And we know that because these terrorists are faceless, this enemy knows no boundaries and neither does this war. That, in itself, is disturbing, but it's not just the future shows of military might that worry me. It's the realization that every war is fought not with weapons but with slogans and images. The passion for war is fuelled by propaganda that pits us against them.

This war will be an ongoing battle for "the hearts and minds" of people around the world. That's what Ms. Beers has been called upon to win. Formerly a top advertising executive, she's now focusing her skills on a propaganda campaign. For 40 years, she thrived in a cutthroat industry, selling everything from Uncle Ben's rice to American Express travellers' cheques. She rose to be chairwoman of several top Madison Avenue advertising agencies, including J. Walter Thompson and Ogilvy & Mather. Now, she has the job of persuading people at home and abroad not only to fear and hate the enemy, whether visible or invisible, real or unreal, but also to buy into American values and the western way of life.

Advertising executives stand in awe of Ms. Beers. She's been heralded as a master at something called brand stewardship -- the art of creating, building and energizing profitable brands. Now her task is to "brand" American values. "This is the most elegant brand I've ever had to work with," she says.

Branding is the hallmark of western marketing; it's all about image and packaging. It involves persuading people to associate a product with a specific brand. Effectively done, it builds a special trust in the brand and consumer belief in the product. Whether it's the face of Colonel Sanders, the Golden Arches or the slogan "It's the real thing," brands are up-front. They sell. Ms. Beers's predominant task is that of turning around the image of the United States and giving it positive brand recognition. And that's a daunting task because, for decades, that image, to all but die-hard Americans, has been one of a shallow, materialistic society intent on gobbling up the resources of the world. As Rance Crain, editor-in-chief of Advertising Age, writes: "Just as Muslim values are inseparable from their religion, (American) values are viewed unflatteringly, as inseparable from those of corporate America."

Ms. Beers's solution to this, as she described recently at a Foreign Press briefing in Washington, is "to put forward something (Americans) might have all taken for granted, which is the U.S. values. They're just as important as our policies."

"Our policies are born of these values. And words like 'freedom' and 'tolerance' and 'diversity of human beings' are precious to us, and I don't think they're very well understood. In this day I would say we must renew our communication on what we mean by such things."

When asked whether she had a poster man or woman she could envision as a symbol of the U.S. abroad, Ms. Beers, the irrepressible marketer, responded: "Our poster people are President Bush and Secretary Powell, whom I think are pretty inspiring symbols of the brand, the United States."

While I find it hard not to snicker at her choice of George W. Bush as an icon of tolerance, I don't question her overall sincerity. Like most Americans, she truly believes the U.S. is the best country on Earth. What she misses, and where she may run into problems, is the paradoxical nature of the United States. She sees its strengths, but is blind to the weaknesses that infuriate so many people in other nations. The U.S. is undoubtedly generous when it comes to international aid, but it's hard to ignore the greedy strings attached to so many of its gifts. And while it stands as a "beacon" of freedom and democracy, the propaganda Ms. Beers is crafting may be just another demonstration of how the U.S. relies on money and power to persuade, indoctrinate and control other nations.

I doubt that she can do for Uncle Sam what she did for Uncle Ben.